04 Sep

The Solution To Take Care Of Your Work Area During The COVID-19 Pandemic

The world is changing dramatically and due to the health crisis in which we find ourselves, we must change our habits. This crisis will change the way that we live, making us conscious about the cleaning of personal items, as well as (small) surfaces and objects in shared areas. Keeping your workplace clean is very important nowadays. Surfaces (e.g. desks, tables and doorknobs) and objects (e.g. telephones, keyboards) need to be wiped regularly, because contamination on surfaces touched by employees and customers is one of the main ways that COVID-19 spreads. It is why we try to provide a necessary product for the society, which has led to the design and creation of ITW Contamination Control General Purpose Wiper.

Employers and employees should start cleaning their workplace regularly. Taking these measures can make the work area a better place to stay. Regular cleaning with IPA WIPERS, will ensure a clean and hygienic working environment.
What are the benefits of having a clean work environment with IPA WIPERS?
Workplace hygiene impacts the spread of COVID-19. No matter the industry, maintaining a clean workplace offers the following benefits:
Staff members stay safe and healthy
Highly cleaned workplace
Create a safe shared environment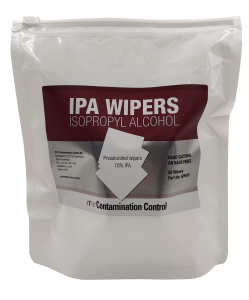 ITW Contamination Control is the headquarters of Texwipe, Chemtronics and Techspray in the EMEA region and is focused on specific and critical cleaning. With years of critical cleaning experience and our top-quality standards, we try to help businesses to keep their area clean and safe for their employees and customers.
GPW50 IPA WIPERS saturated with isopropyl alcohol is ideal for most general cleaning applications throughout your production process in non-critical and non-food production areas, as well as for cleaning surfaces areas around your office spaces and other non-production related areas. These wipers are your daily essential cleaning aid in keeping your work surfaces contaminant-free.
GPW50 IPA WIPERS contains a mixture of 70% isopropyl alcohol and 30% deionized water and is packaged in an environmental-friendly, reclosable slider bag and is easy for waste management.
Features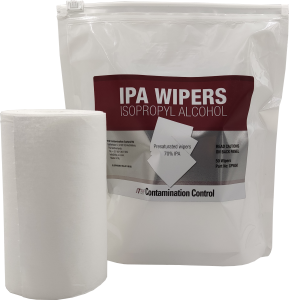 Perforated Wipers on a Roll
Low Linting
Plastic Safe
Moderate Evaporation for effective Breakdown of Contamination
Reclosable Pouch to keep Wipers moist
General Purpose Cleaner
Product Details
28 x 28 cm
50 wipers / bag
10 bags / case
The GPW 50 IPA WIPERS is a daily solution for keeping away all kinds of contamination. If you want to learn more about the IPA WIPERS, please read the technical data sheet. In case you have any question, please contact us via email, social media (LinkedIn or Twitter) or by phone.